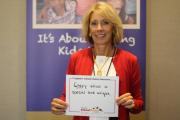 A U.S. Department of Education website that provides information on the Individuals with Disabilities Act (IDEA) is no longer accessible and two senators are demanding answers from newly-appointed Secretary of Education Betsy DeVos (right) on why this happened. Update: the website is now back online at idea.ed.gov.
IDEA requires public schools to provide children with disabilities a "free and appropriate public education." The website, www.idea.ed.gov, was a resource for parents, educators and advocates on the federal law and how it protects the rights of children with disabilities.
The website was down for more than a week, according to disabilityscoop.com. It later redirected users to a site for the Office of Special Education Programs (OSEP) that according to the senators does not provide as much information as the IDEA website.
Visitors to the OSEP website found this explanation: "The servers hosting our idea.ed.gov website are experiencing technical issues. As we work to resolve this issue, information regarding the Individuals with Disabilities Education Act can be found below." [Update: the IDEA site now appears to have disappeared altogether, with no redirect to another site.]
The senators, Patty Murray and Maria Cantwell, both from Washington State and both of whom opposed DeVos' nomination, want the website put back up.
"For more than a decade this website, which was released by President George W. Bush's Secretary of Education Margaret Spellings, has served as a one-stop-shop for resources related to IDEA and its regulations, and the Office of Special Education Programs (OSEP) has consistently updated this website as Congress has enacted new legislation and the Courts have interpreted the law," said a February 10 press release distributed by Cantwell and Murray.
The senators have asked DeVos for a detailed timeline of when the website became inaccessible, a detailed plan for restoring the information, the date when the website will be back up and assurances that the information previously available will not be edited or deleted.
DeVos, a billionaire businesswoman and former Republican Party chairperson in Michigan, has been criticized for not having worked in education and for advocating for school choice, school vouchers and charter schools. During her Senate confirmation hearings in January, she appeared unaware that IDEA is a federal law. DeVos was narrowly confirmed as Education Secretary last week. The vote was 51 to 50, with Vice President Mike Pence casting the tie-breaking vote.
The senators, in their letter to DeVos, advocated strongly for IDEA and the rights of children with disabilities.
"As you now know, IDEA ensures children with disabilities throughout the country receive access to the services and supports they need to access a free appropriate education in the least restrictive environment. This law governs how states and local school districts provide services to more than 6 million eligible infants, toddlers, and students with disabilities," the letter said.
Created date: 02/15/2017