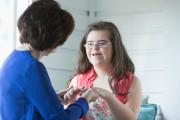 Caring for a special needs child is a big responsibility and can be time-consuming and stressful for the caregiver. It is more than a full-time job; it's often 24 hours a day, every day.
Personal care assistants (PCAs) may be an option to give families needed help. Most states provide, through their Medicaid programs, personal care services to help manage the daily care of children, adults and the elderly with long-term disabilities. Therefore, the individual has to be eligible for Medicaid, although another relatively new program, Community First Choice, is an option in the Affordable Care Act, aka "Obamacare," but only a few states offer it thus far.
A Potential Lifesaver
PCAs come to the home and help with many day-to-day tasks, from eating and bathing to grocery shopping. PCAs allow people with disabilities and chronic conditions to remain in their homes and communities, and out of institutions like nursing homes, by providing help with routine tasks. The number of personal care hours that an individual receives varies from a few hours a week to several hours a day depending on need. (These services may also be called personal attendant services, personal assistance services and attendant care services.)
Personal care assistants are often a lifesaver for parents of special needs children and families caring for elderly relatives. PCAs help with activities of daily living, or ADLs, which include eating, toileting, bathing, dressing and mobility. They also help with other tasks, called instrumental activities of daily living or IADLs. Examples of IADLs are laundry, meal preparation, shopping, housekeeping, traveling to medical appointments and other activities.
States have the option to provide personal care services as part of their state Medicaid plans. Personal care services are also available through home and community-based (HCBS) Medicaid waiver programs. In 2013, 34 states offered personal care Medicaid services, according to data from the Kaiser Family Foundation, but many additional states offer the service through other programs.
It is best to check with your state's Medicaid or Health and Human Services website or office to find out what is offered.
Services Vary From State to State
There are differences among the states in hours, wages, hiring practices and scope of services. For example, some states only provide personal care services in an individual's home, but others also provide them in settings like a school or the workplace. Some personal assistant programs offer transportation as part of their services, while others do not.
In Massachusetts and California, among other states, the individual or guardian of the individual receiving PCA services is considered the employer of the personal care attendant and is responsible for hiring, scheduling, training, etc. There is a growing trend toward allowing people with disabilities greater control over Medicaid community-based long-term services.
In some cases, states will provide an agency or contractor to provide the services. If you have to hire someone yourself, PCAs can be friends, neighbors and relatives, but not a parent, spouse or legal guardian.
To receive personal care services, individuals must meet eligibility criteria. The criteria vary by state and usually require prior approval from a physician.
To apply for PCA services in most states, you must contact a social services agency, home health agency or the state Medicaid office. In New York State, for example, Medicaid recipients request personal care services through their managed care health plan. The managed care organization will conduct an evaluation and recommend a certain number of hours of personal care assistance.
In California, individuals start with their county's social services office. The agency performs an assessment of the individual's need, works with the Medicaid agency to make a determination of eligibility, and allocates services.
An annual reassessment is usually conducted to determine the continued quality of the services and to confirm continued need for personal care.
For more information, visit www.medicaid.gov and click on Medicaid for enrollment information and details on state benefits. Or check with your special needs planner.
Created date: 11/22/2016